Click here to download a 14-day free trial from amazon.co.uk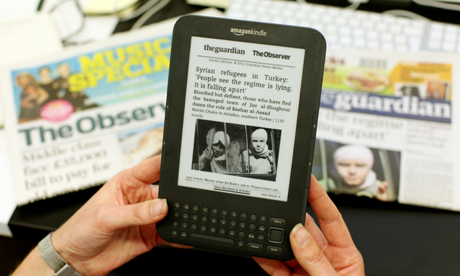 The Kindle edition of the Guardian. Photograph: Graeme Robertson for the Guardian
he Guardian and Observer Kindle edition is now available for download seven days a week in the UK, US and more than 100 other countries. It carries the content from that day's newspaper, including all the editorial sections and supplements:
• Top stories, UK, international and financial news
• Comment, editorials and obituaries
• Reviews
• Sport
• G2 (Monday to Friday)
• Weekday supplements Film & Music, Education and Society
• Weekend magazine and supplements, including the Guide and the literary Review (Saturday)
• Observer magazine and the New Review (Sunday)
• Observer Food Monthly (one Sunday each month)
Many articles are supported by images, and the editions benefit from the Kindle's easy to navigate layout.
Click here to visit the Kindle store and download a 14-day free trial. Once your trial period has ended, pricing will be as follows:
UK: £9.99/month, £0.99/issue
US: $9.99/month, $0.75/issue
Rest of world: $17.99/month, $1.99/issue
A full explanation of how to download content for your Kindle and other useful information is available from Amazon.