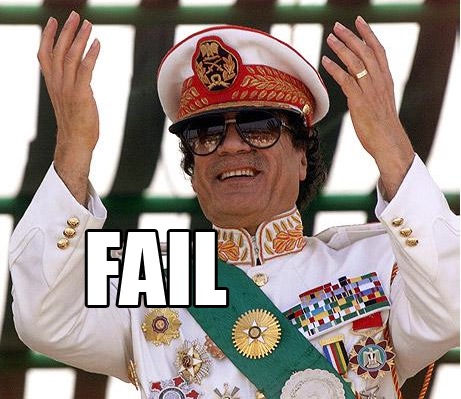 In a message of utter anger and defiance that aired Thursday, a man purported to be Libya's fugitive leader Moammar Gadhafi urged Libyans to continue the fight and not surrender.
"We are not cowards," he said in an audio message broadcast on Syrian-based Rai TV a day after two of Gadhafi's sons gave mixed messages about whether his supporters should lay down their arms.
He spoke on the 42nd anniversary of his assumption of power through a military coup and on a day when his foes were mapping out the next phase of Libya's history. At a meeting in Paris, global leaders welcomed the National Transitional Council's top leadership as the new government of Libya.
Gadhafi's words offered nothing new since the last time he was heard on August 25, after the rebels arrived in Tripoli, but suggested, though not conclusively, that Gadhafi is still alive.
He called the rebels "traitors" and "animals" and said the Libyan people will lose trust in them. Libyans are not frightened of sacrifice, he said, and should stand up to the rebels.
"The destiny of the great people of Libya will be above all traitors," he said. "Remember you are powerful. Fight them. … Go and fight. We will fight from valley to valley, town to town. They will give up, they will surrender. Go attack them, take away their arms."
The rebels still face battles in cities where loyalists still hold sway.
The National Transitional Council initially set a Saturday deadline for loyalists to surrender but have extended that by a week, said Tarek Abuzgaya, a spokesman for the council in Benghazi
But in Tripoli, military spokesman Mahdi Al Arash tempered the extension by telling CNN the rebels are still meeting to discuss options to avoid further bloodshed.
"As of now, the deadline is this Saturday," Al Arash said. "However, it could change if they see fit after the meeting."
Gadhafi's alleged message was intriguing in that his whereabouts remain a big mystery. No clues surfaced from the message about where he is hiding or when it was recorded.
Gadhafi's foreign minister, Abdel Ati al-Obeidi, who had been contacting the council for the past few days, surrendered Wednesday night, council member Elamin Belhaj told CNN.
"He is in a safe location now and al-Obeidi is satisfied with it," Belhaj said.
Thursday marked Day 12 since opposition forces stormed the capital and captured Gadhafi's Tripoli compound.
Speculation that Gadhafi may be in Algeria gained ground this week after the neighboring nation confirmed that his wife, pregnant daughter, two of his sons and other relatives fled there.
Algeria described the move as a humanitarian gesture, but it angered the rebel leadership, with one official calling it "an aggressive act."
A doctor in the gynecology department of Djanet Hospital said Gadhafi's daughter Aisha arrived there Monday and gave birth to a baby girl, Zafia, and left about 2 p.m. The doctor is not authorized to speak to the media and did not want to be identified.
The doctor said he did not know where the family went after that. The transitional council wants them extradited back to Libya.
Ahead of Gadhafi's audio message, two of his sons appeared to offer divergent and sometimes contradictory answers Wednesday on whether loyalists should keep fighting or negotiate.
"Victory or martyrdom!" said a man who identified himself as Saif Gadhafi, speaking on Rai TV.
"Everyone should move now, begin to attack these gangsters," he said. "Attack everyone, day and night, until we clean this country from those gangsters and those traitors."
The man said he was speaking from a Tripoli suburb, where he had met with residents and found their morale was high. He also said he had recently visited the family's compound, Bab al-Aziziya in Tripoli, an improbable statement since it was overrun by rebels.
Saif Gadhafi predicted the rebels near Sirte would find 20,000 fighters "ready, willing and able" to defend the loyalist stronghold where his father was born.
He said he had spoken with tribal leaders who were meeting in Bani Walid "and they all agreed unanimously that this is our country and we will defend it."
But council member Abdulrazag Elaradi told CNN that he is not aware of any meeting by tribal leaders in Bani Walid to support Gadhafi. He said the rebels were not involved in any negotiations with loyalist forces.
On another station, a man purporting to be Saif's brother appeared open to the possibility of surrender, but with a catch.
"If this will prevent bloodshed, we will do it, just give us guarantees," said a man identified by Al Arabiya as Saadi Gadhafi.
"We need to stop the bloodshed right away," Saadi Gadhafi said, adding that he was speaking on behalf of his father.
He said he could not say whether he was in close touch with his father, but added, "If the rebels want to lead this country; we don't have an objection to that. In the end we are all Libyans and we are all together."
Asked if Moammar Gadhafi was willing to surrender, he said, "Stop the fire and all ways of negotiations are open." Asked if he was willing to hand Sirte to rebel forces without a fight, he said, "Nothing is impossible."
Whatever happens, he added, "I don't have a weapon and will never fight a Muslim Libyan."
Despite that talk, Saadi Gadhafi told CNN Wednesday in an e-mail that he was leaning against surrendering to the rebels.
"Since they don't want to negotiate, I don't think I will go to them and surrender myself," he wrote. "They have already killed thousands of people and destroyed the country. I'd rather surrender myself to a real government than … to those guys."
Moammar Gadhafi, Saif Gadhafi and the former head of military intelligence, Abdullah Al-Senussi, face charges in the International Criminal Court at The Hague, Netherlands, for crimes against humanity.
Via CNN